We introduce you an "Athens by bike" tour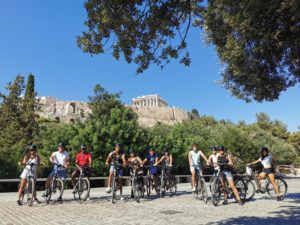 Credits: Athens by bike 
Athens is a magical city to discover. The energy of ancient civilization flows together with a modern city that never sleeps. A multicultural blend of flavors, languages, and vibes, it challenges you to taste it! You cannot miss this call. You want to get to that ride and join it as a local. From the heart of the historical neighborhood of Plaka, Kimon Hotel Athens suggests you a fun and ecological way to explore the city of Athens that will leave you with its indelible imprint into the years.
Athens is a vibrant and exciting metropolitan city that combines the ancient past with the modern city. The Greek capital has a lot of things to offer and numerous things to do whether it's history, culture, food or activities. There is a lot to see and usually, too little time to do it. This is why, Athens by bike believes that the best way to explore this exciting city and get to experience it like a true local in a short amount of time is on a bike! Athens by Bike is a local company with years of experience in the touristic field and more than 5.000 excellent reviews on all platforms. It consists of a team that loves Athens and welcomes guests with the sole purpose to introduce them to the vibe and culture of the city and equip them with all the information they need for an unforgettable stay in the city. Athens by Bike has created a unique cycling experience that combines sightseeing with storytelling which guarantees an exciting adventure and lots of beautiful memories for anyone who joins.
Athens by Bike runs daily city bike tours in which the guests have the opportunity to check all the must-see locations and some hidden local gems in less than 3 hours. The guests will get to visit places and areas they wouldn't normally see on foot during this fun bike tour of Athens and get to know the city like a local! After the tour, the guests will have a better overview of the city, the places that locals love, the hip and cool areas of Athens and they will be motivated to get to know this extraordinary city even better.Athens by Bike's bike tours promote sustainability as biking is the most eco-friendly way to get around and contributes to environmental conservation. It's the perfect activity for anyone, regardless of age or fitness level and it's the greatest outdoor activity as it's a one-of-a-kind way to explore the historical Athenian center in the most relaxing and safe way.
Discover Athens
With alternative ways
by Kimon Hotel Athens